Accuracer is a compact, embedded, single-file, multi-user (file-server and client/server) cross-platform BDE replacement database with SQL support based on a new original BDE alternative database engine that supports the almost all TTable, TQuery, TDatabase, TSession, TBatchMove functions and provides some special ones to give you wide functionality and ease of use. Key features: Multi-user (both Client-Server and File-Server); Multi-thread access; Storing all tables inside the single database file; No BDE, no DLLs; SQL'92 (DML & DDL) support; Fully compatible with standard DB-aware controls; IProvider Support (ClientDataset); Small footprint and low memory usage; In-Memory tables support for the fastest data access; Varchar and BLOB field types with optional data compression; Referential Integrity support (SQL'99 compliance); Strong encryption with wide variety of algorithms and modes; Transactions support with READ COMMITTED isolation level; BatchMove component; Reverse engineering (tables to SQL script export); Backup and Restore database support; Capability of database embedding inside the executable file; ODBC Driver available; No royalties; Full source code available; Windows / Linux cross-platform database engine; Unmatched ease-of-use, comprehensive help, lots of demos and utilities with source code for Delphi/C++Builder and Kylix; No royalties; Full source code available. Accuracer is currently available for the Borland Delphi / C++Builder and Kylix development environments in Single-User (SU), Multi-User (MU), and Client/Server (CS) versions with full source code (Pro) or without one (Std).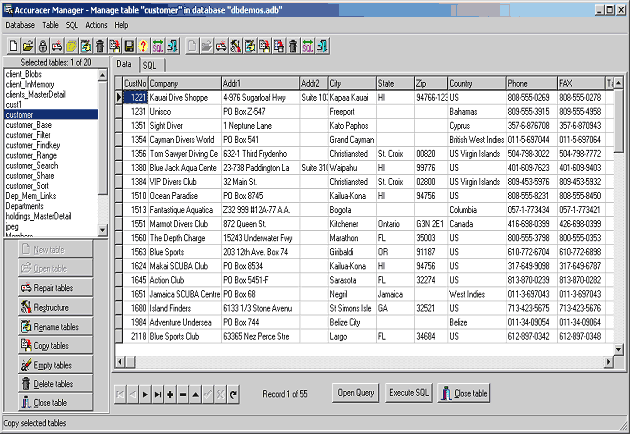 Latest
Delphi
Related Tools:
WinLicense Combines the power of software protection, with the power of advanced license control. It offers a wide range of powerful and flexible techniques that allow developers tosecurely distribute trial versions of their applications.
License:Shareware, $349 to buy Size:9.65 MBLatest Update:2007-11-28
Powerful Windows Software Protector. Designed for software developers who wish to protect their applications against advanced reverse engineering and software cracking.
License:Shareware, $199 to buy Size:2.6 MBLatest Update:2007-10-31
CAD Export VCL is a source code provided library for adding export to DWG, DXF, HPGL, PLT, SVG, CGM and PDF files in Delphi and C++ Builder applications. The library is distinguished by high speed and reasonable price.
License:Shareware, $1215 to buy Size:1.87 MBLatest Update:2013-07-18