Alive MP3 WAV Converter converts MP3, WAV, WMA, OGG, and VOX files from one to another with a single right-click. It is very simple and easy to use. Just right-click on files in Windows Explorer, select Convert to MP3 (or WAV, OGG, WMA, VOX), and convert them using your predefined settings. It supports normalizing of MP3 to MP3, WAV to WAV, WMA to WMA, OGG to OGG, VOX to VOX, and supports MP3 VBR, OGG VBR. You can also convert MPC, AVI, MP1, MP2, MPEG, MPG, g721, g726, g723, M3U, AIFF, AU or RAW to above formats. This program gives advanced users the ability to finish the conversion with command line or schedule in batches. You can get more information about Alive MP3 WAV Converter from http://www.alivemedia.net/mp3wav.htm. Our official website is http://www.alivemedia.net.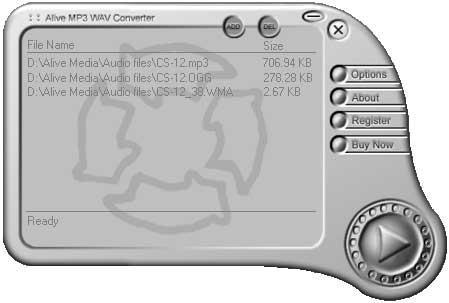 Latest
Rippers & Converters
Related Tools:
Cool All Video/Audio to MP3/WAV Converter is a powerful video/audio batch converter that can convert any kind of Windows media file to MP3 or WAV. Media formats include AVI, MPEG- 1/2, VCD, DVD, MP4, WMA, WMV, ASF, RM, RAM, RMVB, DivX, Xvid, AC3...
License:Shareware, $19.95 to buy Size:12.26 MBLatest Update:2005-05-01
Acez All Audio Converter is a powerful audio converter to convert audio files between MP3, MP2, MP1, MPEG, WAV, OGG, WMA and VOX formats.
License:Shareware, $22.95 to buy Size:6.33 MBLatest Update:2004-10-16