TurboDemo - Explain software, PC-applications, websites and products with your own animated demos, simulations and tutorials Turbodemo uses an intelligent technique for capturing Screenshots which allows it to reproduce actions such as the movement of a mouse cursor. These Screenshots can be worked on afterwards as animated slides using many different effects like notes, narration, interactivity, slide transition effects etc... The video can be compiled in different formats and published on the internet, CDs and as documentation in the following formats: Flash, Java / HTML, GIF, EXE, ASF, AVI, PDF and MS Word. TurboDemo is easy to use. In just minutes you'll be able to generate professional demos, presentations and tutorials. No programming knowledge is required TurboDemo is ideal for: - Marketing / Sales - you can present your software and products efficiently and effectively on the web or at exhibitions - Help desk - you can help your customers/users solve their problems by providing them with instructions in the form of animated support videos. - Training and E-Learning - Interactive Tutorials can be created. TurboDemo's Flash and Java demos are compatible with SCORM and can be integrated into your Learning Management Systems (LMS) Your advantages: - No plug-ins are required to play the demos - Extremely small in size: Only 100-300 KB per minute of playback - Create demos and tutorials in many formats: Flash, EXE, GIF animations, Java, ASF, AVI, MS Word and PDF - No programming knowledge required - The generated demos are independent of the operating system being used. - With TurboDemo SkinStudio Add-on, you can create individual balloons, text objects etc. to be included in TurboDemo projects.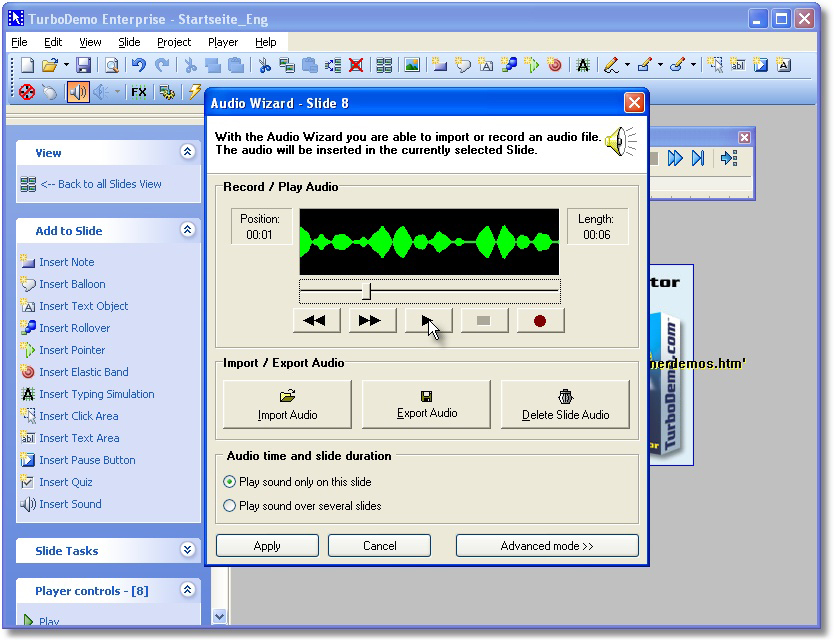 Latest
Screen Capture
Related Tools:
Absolute Color Picker is a freeware enhanced color selection dialog with RGB and HSB color models. Unique color selection dialog models provide versatile color schemes for selecting necessary color hue, brightness and transparency values.
License:Freeware, $0 to buy Size:905 KBLatest Update:2005-05-11

Easily capture and print your screen's contents and save the images to disk. Screen Grabber gives you the power to capture, print, and save entire screens and active windows. It's user configurable to give you flexible printing results.
License:Shareware, $29.95 to buy Size:1.52 MBLatest Update:2004-09-10