This software is aimed to help you preview Flash files using standard Windows Explorer. Once SWF Live Preview is installed you can scan directories and subdirectories for flash files, create and preview thumbnails for SWF files and fetch information such as Flash version, number of frames, shapes, find if file is compressed or not, etc. You can even choose yourself which frame to create thumbnail from as well as set size of preview. You can clear cache in order to save some storage space in case you have removed some of the Flash files. Our product scans files with SWF and EXE (Projector EXE) extensions. With SWF Live Preview you can open SWF files in Flash Decompiler and Flash Optimizer (other Flash tools from Eltima) directly from File Properties tab.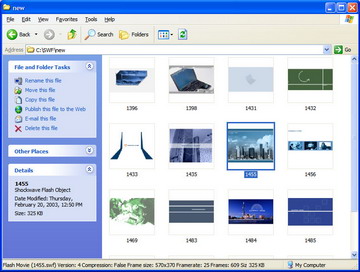 Latest
Icons
Related Tools:

This assembly langage program allows Windows 2K/XP users to customize the appearance of folders. You can choose the icon and tool tip of any folder, giving the same effect (if desired) of system folders like the Recycle Bin or "My Documents".
License:Freeware, $0 to buy Size:18 KBLatest Update:2004-12-13
IconPackager is a desktop-enhancement utility that lets you change all the common icons used by Windows at once by applying "packages" of icons to them.
License:Shareware, $14.95 to buy Size:21.22 MBLatest Update:2007-04-19