Most x86 processors support the CPUID instruction which returns data describing the make and model of the CPU. Later processors also support extended features such as cache details, processor features, design speed and processor name. CPUSpy interrogates your processor and displays this data (if supported) in a easy to read tabbed format. L1, L2 and L3 cache data is fully broken down as are the processor flags. In addition, CPUSpy can also check your current CPU speed in MHz, Windows Up-Time, IP address, Window Version and memory status. CPUSpy even can run a test on your cache memory to provide an easy comparison between various processors or system configurations. CPUSpy also has an internal database of many common CPUs, supporting most AMD (tm), Intel (tm) and Transmeta (tm) processors. This can be used to compare between processors features such as bus speed, maximum frequency, cache sizes, release dates, codename, and transistor count. Interesting facts are also included for most major models. A OS database is also included for comparing past current and future versions of Windows as well as information on you computers drives. Processor data can be saved in a HTML report file providing an easy way to extract data from a PC and analyse it later. CPUSpy is written in 100% assembly language.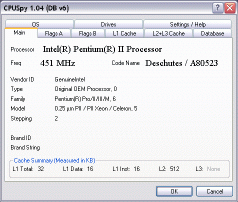 Latest
Benchmarking
Related Tools:
Mihov Blank Screen shows black, green, gray, or white screen or a white-green animation. Use the program to set the brightness of your monitor and test the quality of a monitor (moire, blue and yellow regions, storms). Users can set their own colors.
License:Freeware, $0 to buy Size:193 KBLatest Update:2012-04-08
ASTRA32 is a powerful tool providing diagnostics and complete information about your computer system. It scans the actual hardware, not the Windows Registry. It also offers such features as a HDD Health Status checker and Drivers Troubleshooter.
License:Demo, $29.95 to buy Size:1.95 MBLatest Update:2013-05-22
This program performs computer configuration analysis and diagnostics. It gives detailed information about your computer hardware and devices operational modes, including undocumented information.
License:Demo, $29.95 to buy Size:747 KBLatest Update:2013-05-22