CapeSoft Office Messenger is a peer to peer office instant Messaging program. It's great for sending all sorts of messages instantly to your office colleagues and it's easy enough for everyone to use. We've designed CapeSoft Office Messenger to offer you all the functionality of a high-quality Office Messenging application, while keeping the setup and options to an absolute minimum. This means anyone in your office can use Office Messenger with little or no training required. A must for every office.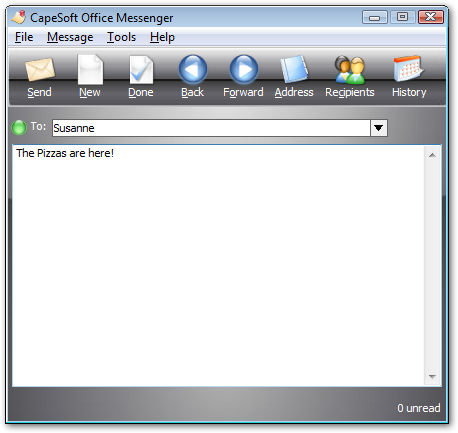 Latest
Chat & Instant Messaging
Related Tools:
Vypress Chat is a user-friendly application for real-time chatting in small or home office (SOHO) local networks. Vypress Chat works with TCP/IP network protocol. You get an interface comparable to mIRC's and ICQ-like functionality.
License:Shareware, $19 to buy Size:1.75 MBLatest Update:2011-06-16
Akeni Help Desk Assistant can be used with Akeni Enterprise Instant Messaging IM. Help Desk Assistant is a feature rich live help system that allows visitors to your site to chat with sales and support staff in real time.
License:Shareware, $799 to buy Size:10.58 MBLatest Update:2013-10-16