The CDBF Shell extension allows you to view content or structure of DBF files in the Properties window without opening them. CDBF Shell allows you: copy to the clipboard selected records. copy to the clipboard structure of the table. hide or show deleted records. sort DBF file by clicking on a column header. set default order of records. switch Ansi/OEM charset (Autodetect Ansi/OEM is available, too). The CDBF Shell extension supports dBase III, dBase IV, FoxPro, Visual FoxPro and dBase Level 7formats.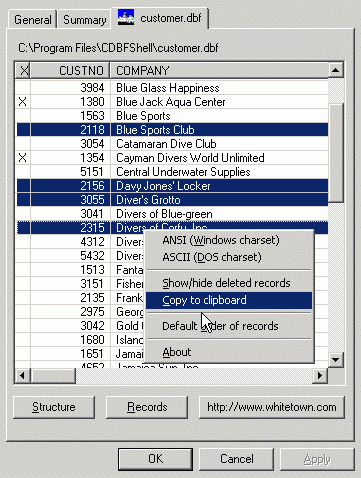 Latest
Shell Tools
Related Tools:
The CDBFinfo Shell extension allows you to view brief information about a DBF file without opening it. It displays: size of file, type of file, size of header, records count, fields count, memo fields count and content of the first 5 records.
License:Freeware, $0 to buy Size:341 KBLatest Update:2012-09-22

AudioShell is a freeware MS Windows Explorer shell extension plugin which allows you to view and edit music file tags directly in Windows Explorer. AudioShell supports MP3, WMA, Apple iTunes AAC/M4A/M4P, MP4, MPC, Monkey's Audio, OGG and FLAC files.
License:Freeware, $0 to buy Size:2.44 MBLatest Update:2013-11-14