Clipboard Assistant is intended for an acceleration and a simplification of text operations via the Clipboard. You can use it while you are writing programs, filling Web forms, making sections of related news items, etc. You can create collections of text clips for using them in other applications. You can use Clipboard Assistant and other applications together, or as an independent full-featured text editor. Every time you copy a text to the Clipboard, Clipboard Assistant stores it in the History List and can place it into an editing file. You can replace a text in the Clipboard with items of the History List,items of a clip collection or a text from an open file. You can paste a text into any application using several handy methods, or scroll contents of a text field in a filling Web form. Most of operations can be performed by hot keys. Try our Clipboard management tools.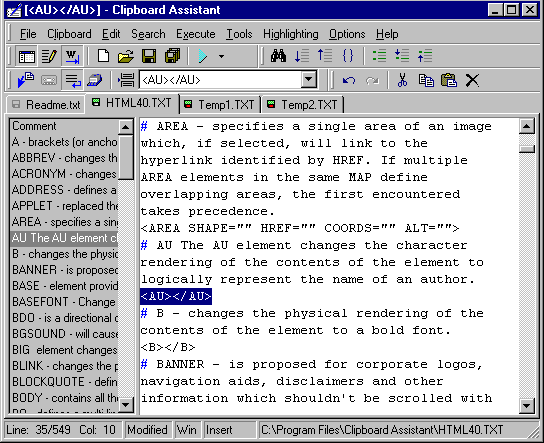 Latest
Clipboard Tools
Related Tools:
Typing something youve typed before? Searching for that graphic file, web address or phone number you know you have somewhere? You need 101 Clips. No other multi clipboard offers 101's unique clip cataloging system.
License:Shareware, $20 to buy Size:2.57 MBLatest Update:2007-10-24
Popular Clipboard Extender Holds Thousands of Clips, across reboots. Searching, Screen Capture, editing, re-formatting, combining, change case, drag and drop, encryption, internet features, E-Mail clean-up, and even a spellchecker!
License:Shareware, $34.95 to buy Size:7.5 MBLatest Update:2013-03-20