Atomic Time Synchronizer is a useful and handy utility to keep your PC clock accurate. It periodically checks and synchronizes your computer clock with NIST atomic time servers, or synchronizes time between computers.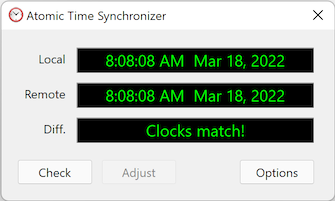 Latest
Timers & Time Synch
Related Tools:
This freeware utility helps you configure Windows to optimize how often it references an atomic clock server to keep your local computer up-to-date with the exact current time. Provided free by WorldTimeServer.com, home of accurate times worldwide.
License:Freeware, $0 to buy Size:890 KBLatest Update:2012-09-25
PC On/Off Time graphically displays the usage time for your computer for the last 3 weeks without having to start any logging (uses Win 8/7/Vista/XP/2000 built in feature). You can see at what times the computer was on or off in a simple overview.
License:Freeware, $0 to buy Size:385 KBLatest Update:2012-10-24