PrinterExpress is a very useful program for people who work with many different printers on a network. The inconvenience of having to use the Print dialog every time you want to print can quickly become a hassle. Using PrinterExpress, you only have to click once on the PrinterExpress icon located in the system tray (next to the time), and you can easily make any printer on your network your default printer. So when you need to print a document, or many documents, you can simply click on the Print icon in your favorite program instead of going through the tedious process of File->Print?-> (select printer) ->OK. The program easily pays for itself, just by the amount of time you will save in your work day.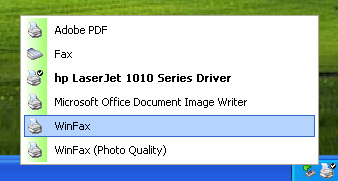 Latest
Printer
Related Tools:
It Installs on Windows Server 2003 (2k, XP) and allows remote users to create PDF files. This is much like sending documents to a network shared printer. It simplifies document management making a single PDF from different documents.
License:Shareware, $39 to buy Size:2.28 MBLatest Update:2006-03-19
Batch & Print Pro is for batch printing documents from a retainable list which can be automatically printed in document sequence of your choice.
License:Shareware, $69.95 to buy Size:22.12 MBLatest Update:2014-01-13