Attachment Auto Saver is a Microsoft Outlook Add-On component that automatically saves attachments from your Outlook email messages to your hard drive. This Add-On will help you stay organized and will save space in your Outlook pst file. Attachment Auto Saver helps Outlook users like yourself save time and improve productivity. Whether you need to all inbound and outbound attachments or one. Whether you need to monitor one or many folders, whether you need to save your attachment in different locations Attachment Auto Saver is a perfect add-on. Added benefits to using Attachment Auto Saver is that it will reduce the size of your pst file (by removing attachments) making Outlook faster, more stable, and more reliable. Also will increase your ability to access attachments while working in or out of Outlook.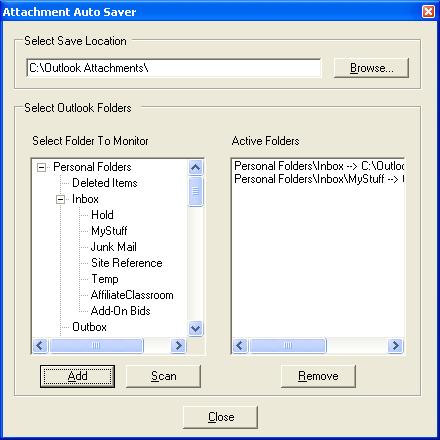 Latest
Other E-Mail Tools
Related Tools:
Outlook add-in for sending individual, personalized, emails to your mailing list. Includes mail merge and option to control the rate at which emails are sent. Simple to use. Compose message in Outlook and send from any account.
License:Shareware, $0 to buy Size:402 KBLatest Update:2013-04-07
guru's Mailbox Fetch is designed to extract attachments from popular Email Programs such as Outlook Express, Outlook, Netscape and, Mozilla etc.
License:Shareware, $15 to buy Size:1.19 MBLatest Update:2007-09-05