32bit FTP lets you log onto millions of FTP sites all over the world. You can browse their files. You can copy files from an FTP Site to your computer. You can copy files from your computer to an FTP Site. With 32bit FTP you can see a remote FTP Site as though it is a part of your own computer. You can Copy, Delete, Rename files on your computer or remote FTP Sites. Put 32bit FTP on your computer in a folder or directory, create a shortcut to it. ElectraSoft writes software for many purposes including ftping. We offer free software trials on our software downloads. ElectraSoft is one of the largest ftp Software Suppliers. FTP Solutions: 32bit FTP shareware programs are very popular with people that build web pages. It works with Microsoft Windows. FTP Solutions: If you are looking at FTP programs, take a look at our 32bit FTP client. This FTP shareware is very simple for beginners to use, even if you have never used FTP software before.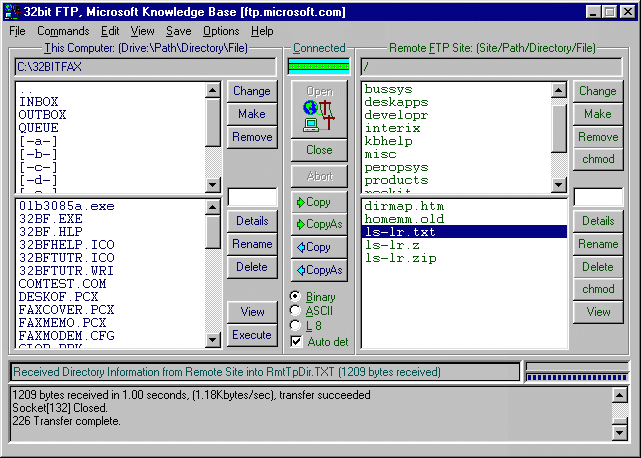 Latest
FTP Clients
Related Tools:
Robust multi-directional file tree synchronization and backup over local & network paths in any situation: From laptop synchronization to ZIP'ed backup to incremental FTP/DAV website upload. True synchronization of (re)moved files. Scheduled tasks.
License:Shareware, $34.9 to buy Size:1.81 MBLatest Update:2011-11-25
FireFTP is a powerful FTP client that makes downloading mp3 music, movies and software easy by combining an easy to use interface with a versatile multi-threaded file transfer engine.
License:Shareware, $19.95 to buy Size:751 KBLatest Update:2005-04-18
Catfood FTP Wizard offers a simple to use yet powerful interface for transferring files. Remote browsing simplifies FTP server access with a familiar Windows interface. Powerful transfer options include archive mode, scripting and chmod support.
License:Shareware, $9.95 to buy Size:4.92 MBLatest Update:2008-05-11