TimeChimes will play a sound or sounds at pre-scheduled times of day on each day of the week. Typically, TimeChimes can used to play school bells or shift-time sounds in factories, churches or businesses. It can also be used for other applications where you want a sound to play at preset times. Features: * Plays bells, chimes or any other sounds at preset times. * Schedule times for automatic play on each day of the week (or weeks on a dual week cycle). * The current day's play times can easily be changed if required. * Includes 9 pre-recorded bell type sounds. * Other sounds can be loaded as wav and mp3 formats. * Automatically runs on startup or runs as a service (before logon) * Easy to use for day to day operation. About NCH Software NCH Software is a leader in audio, video, music, mp3, cd, dvd, telephony, dictation, transcription, business, and computer utility software for Windows, Palm, Pocket PC and Mac OS X. NCH has released over 80 products since 1993 and have received many awards for software excellence. Download Software for DJ, broadcast, stream, record, edit, convert, burn, mix, split, tag, rip and play audio files for wav, mp3, and other popular file formats.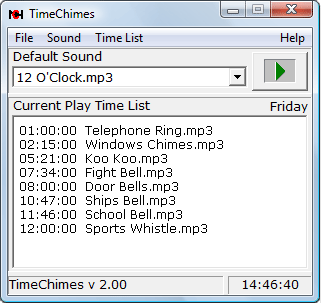 Latest
Teaching & Training Tools
Related Tools:
Teach yourself music notation/keyboard notes on grand staff in all keys. Easy. Program writes a note on grand staff and sounds pitch.You click appropriate note on the screen keyboard. Scoring, automatic advance and modulation included.
License:Freeware, $0 to buy Size:677 KBLatest Update:2013-11-09
Make learning in the classroom or boardroom a blast!!! Use our free 3000+ state-test aligned questions, or make your own questions, to play eight different games using a digital projector and any interactive board for competative and fun learning!
License:Demo, $59.95 to buy Size:63.03 MBLatest Update:2008-08-10