AudioTime allows you to schedule the recording of audio or replay audio at certain dates and times or regular times on certain days of week. It can replay an audio file as it is being recorded (to delay the recording) as well as record or replay multiple files at the same time. Typically, AudioTime is used by Radio Stations to record and replay network programs. Features: * Record or replay audio automatically. * Schedule for either certain dates or time of day on specified days of week between commence and expiration dates. * Replay a file while it is still being recorded (eg. to delay a network program) or to record a file while it is still being played. * Select sample rate from 8kHz to 96kHz in either mono or stereo. * Record multiple files at the same time or replay multiple files at the same time by installing more than one sound card. AudioTime Basic is limited to 6 scheduled files. A Professional version is available with no restrictions. About NCH Software: NCH Software is a leader in audio, video, music, mp3, cd, dvd, telephony, dictation, transcription, business, and computer utility software for Windows, Palm, Pocket PC and Mac OS X. NCH has released over 80 products since 1993 and have received many awards for software excellence. Download Software for DJ, broadcast, stream, record, edit, convert, burn, mix, split, tag, rip and play audio files for wav, mp3, and other popular file formats.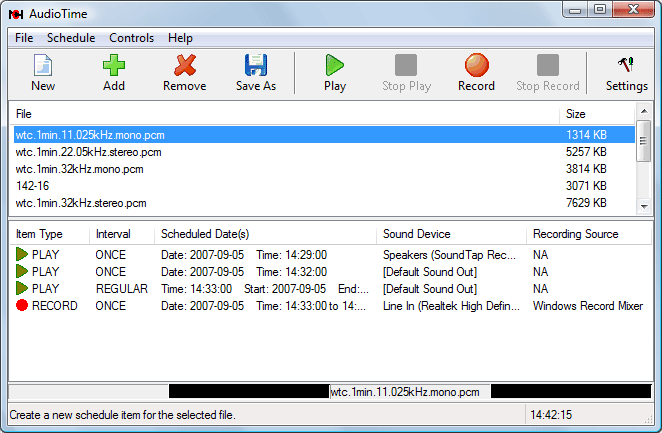 Latest
Audio File Recorders
Related Tools:
An audio software built in recording, editing and coverting sounds to MP3, WAV, OGG popular music format file. Typically it allows you to record sound from various input sources, edit audio files and save it to popular music format file.
License:Shareware, $24.95 to buy Size:1.47 MBLatest Update:2010-04-09
Absolute Sound Recorder is a powerful sound record software. You can record sound from microphone, line-in audio , streaming audio from the Internet, or music played by any player. It supports three kinds of sound output formats, WAV, MP3 and WMA.
License:Shareware, $24.95 to buy Size:2.23 MBLatest Update:2014-04-24

Record any audio source from your computer into MP3, WAV, WMA, OGG, or VOX file.
License:Shareware, $29.95 to buy Size:5.96 MBLatest Update:2008-04-14