Create animated emails, documents and Help files by replacing static screenshots with GIF animations recorded by capturing your desktop. DemoCharge allows you to capture screen activity to create animated demos and content for the Web, emails, tutorials, presentations, training materials, product documentation, support forums, and knowledge base articles. After recording, generate the animated GIF demo (Flash MX and Java Applet in Pro version). Anybody can now create animated demos in minutes: - Casual users can capture problems live and email them to support, - Software testers can create visual bug reports during software testing, - Technical support can answer questions visually, - Software developers can create animated demos that show key features of a product, - Technical writers can create animated tutorials and documentation that helps users quickly get started with an application, - Webmasters can spice up their Websites with animated content, tips and tutorials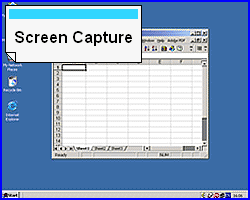 Latest
Animation Tools
Related Tools:
Create GIF animations from the blend of images, captured video snapshots, and multi-page files.
License:Shareware, $19.95 to buy Size:1.48 MBLatest Update:2013-12-01
Easy 3D Objects is intended for creation of 3D GIF- animations, banners, illustrations for the Web and presentation materials. You can use different types of objects,assign animation paths to objects, fill objects by color or texture and more...
License:Shareware, $35 to buy Size:4.41 MBLatest Update:2013-10-20
CoffeeCup Firestarter is the fastest and easiest way to make Flash effects for your Website. It quickly creates complex text and image effects with just a few clicks of the mouse.
License:Freeware, $0 to buy Size:7.42 MBLatest Update:2014-01-08