Ape2CD is an APE music CD image burner which can recover a music CD from an APE music CD image. Ape music CD image is a compress digital music which is compressed from a music CD, all the tracks are packaged to a single compressed image file. With Ape2CD, you can burn the APE music CD image to a CD disc, and all tracks in the music CD can be seeked. A CUE file is required to burn the APE file, the CUE file contains the information of every track in the APE music CD image. Features: * Easy to use, you only need to select a APE file and a CUE file. * Supports all current hardware interfaces (IDE/SCSI/USB/1394/SATA). * Supports use of high write speeds. * No Drivers Required. ASPI not required for NT/2000/XP. * Supports use of re-writable CD formats. * Supports multilanguage including English, French, German, Spanish, Italian, Dutch, Portuguese, Simplified Chinese, Traditional Chinese * Supports 11 skins.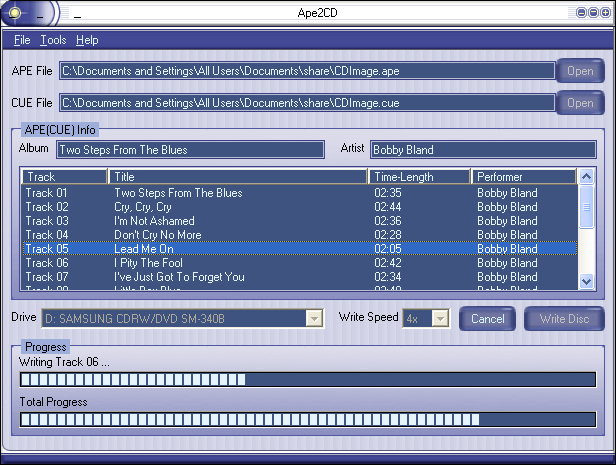 Latest
CD Burners
Related Tools:
Easily burn music, video and data CDs and DVDs. Amazing CD & DVD Burner handles all drive types including CD-R, CD-RW, DVD-R, DVD+R, DVD-RW, DVD+RW, and DVD-RAM (SCSI, IDE, EIDE, and USB).
License:Freeware, $0 to buy Size:778 KBLatest Update:2006-11-13
Apen Audio CD Burner can burn APE, FLAC and MP3 files to normal audio CDs. It also can load the CUE file which helps to split tracks for a large APE or FLAC audio file.
License:Shareware, $29.95 to buy Size:2.23 MBLatest Update:2008-11-27