Bonez Adventures is 3D Role-playing / Adventure game from a 3rd preson's view. The game takes place in different locations, which offers classical adventure tasks as are: using some things on / in combination with the others, talking with NPC game characters, or solving logical problems. Player may find here number of hidden bonuses, which allows him to raise his character's abilities. Then there are action locations filled with traps and enemies. Main features: - Incredible story taking place on a historical Earth in 30's. - Each chapter includes many beautiful areas. - Special rules system adapted to a real-time setting - including 8 base skills and 9 derived skills. - Fast paced combat in a rich and detailed world where dialogue interaction and story play equally large roles. - Classless system allows the user to customize their character however they want as they advance to as high as 100th level. - A random item generator allows the player to find literally thousands of different weapons and items. - Special sub-games which are included in the story and could be played as independent games. - Many items to upgrade your skills. - Many spells that evolve and grow with as your characters' abilities increase. - Many enemies to challenge your combat and spell-casting abilities. - Simple and intuitive gameplay with a clean interface.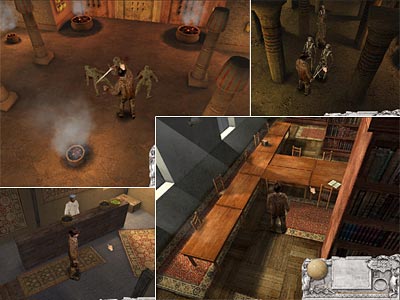 Latest
Adventure & Roleplay
Related Tools:

Uncle Julius is trapped in another dimension and is counting on you to save him - preferably before he finishes his book! Non-violent graphical adventure in the tradition of Santa's Secret Valley. Enthralling, enlightening entertainment for all ages!
License:Shareware, $19 to buy Size:5.73 MBLatest Update:2004-12-11

Non-violent graphical adventure for the whole family. Santa is stranded on an island in the Secret Valley, and you must go to the rescue. Delightful full-color scenes, dozens of challenging puzzles, an enthralling challenge for young and old alike.
License:Shareware, $18 to buy Size:12.8 MBLatest Update:2004-09-22
Fun and Easy for all ages! Build and paint this "ready to assemble" high detail 3D Model Kit and learn why 3D is so creative and exciting!
License:Shareware, $7.99 to buy Size:3.23 MBLatest Update:2006-12-04