Dictation Buddy is a Windows based program that records your voice from a microphone or telephone connection and saves the recording as a compressed sound file that you can play, edit, send, or publish. Dictation Buddy can be used to transcribe a recording or to record phone conversations from a single phone or in call-center environments The main features of Dictation Buddy include: - Recording and playback of compressed sound files using fast and efficient Windows codecs. - Recording from any line or sound card on your computer. - Recording phone calls using a voice modem. - Automatic sound activation features mean that recording starts when audio sounds are detected - Speech enhancements for playback - Automatic "save" facilities mean that sound files are automatically saved when a conversation ends. The files are saved in a user specified directory with a file naming format determined by the user. - Accelerated playback for easy searching. - Ability to edit your recording. - Imbedded text and bookmark facility. - OLE support that allows you to imbed your recording in other files such as Microsoft Word documents. - Direct sending of your recording via email. - Easy to use audio wizard to help you select the best recording parameters. - Global hot keys to allow quick access to common functions. - Ability to create bookmarks in sound files and use them for quick navigation. - Controlling playback using a foot control. - Playback with automatic pauses. The program is an ideal choice for: - Dictating. - Transcribing sound data to a text document. - Recording phone conversations. - Adding voice comments to a document, publishing speeches and other sound data to a Web site. - Sending voice messages through E-mail. - Re-recording from a portable dictaphone or cassette recorder.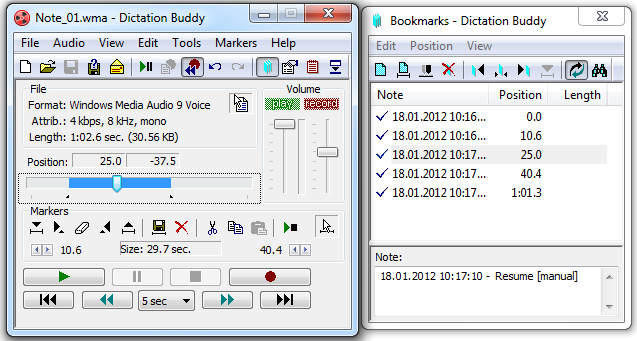 Latest
Speech
Related Tools:
Listen to your work when you want!
License:Shareware, $23.5 to buy Size:1.7 MBLatest Update:2007-01-11
Increase your productivity with this advanced personal assistant that includes Macro Recorder, Pop-up Killer, Text-to-Speech reader, Memory Optimizer and more than 20 additional productivy functions not provided by Windows.
License:Shareware, $18.95 to buy Size:712 KBLatest Update:2003-10-22